March 27 – April 13, 1943
The Ocean Crossing
The commanding officers of all the ships departing in the convoy for North Africa were briefed during a departure conference on March 26th.

At 1130 on Saturday March 27th, LCI 35 departed Bermuda with Flotilla One and other ships in the convoy. At 1245 LCI 35 held a short firing practice and at 1800 with the "sea very calm" joined the rest of the convoy heading across the Atlantic to accomplish what it was destined to do in the war.

March 27, 1943
Task Force Heads for North Africa
On March 27, 1943 the Task Force Flagship and an eighty-eight (88) ship convoy departed Bermuda for their destination in North Africa.

The convoy sailing for North Africa included 17 AKs, 2 AOs, a French Tanker, 18 LSTs, 29 LCIs, 1 AT, 6 AMS, 3 PCS, 6 SC, 4 YMS, the USS Maumee, and the Task Force Flagship. The number 1 and number 14 columns in the convoy were comprised of LCIs with each of the other columns having a LCI as the last ship. The Task Group passed Gibraltar late at night on April 11th.

According to the LCI 35 Deck Log, the ocean crossing was mostly uneventful with the weather generally good. Rough seas and inclement weather were noted on Monday March 29th and Saturday April 3rd. The crew practiced "abandon ship" and "collision drills" several times during the crossing and several notations of plane sightings were made without further comment. On Tuesday April 8th at 1100 SC 696 came alongside LCI 35 to take and repair the water pump that was damaged when the LCI engine boiled. Two days later, on Thursday April 10th, the repaired water pump was returned to LCI 35.

| | |
| --- | --- |
| March 1943 | Other WW II Action and Notable Events |
| March 29, 1943 | Meat, butter, and cheese rationing began in U.S. |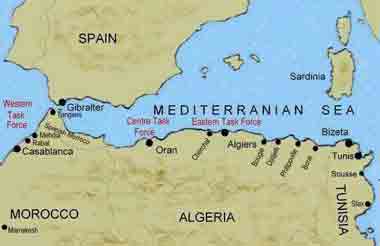 Map of Mediterranian Area
April 13 – April 18, 1943
LCI 35 in Nemours, Algeria
On April 13th, after a 17-day voyage from Bermuda across the Atlantic, LCI 35 arrived in Nemours, Algeria at 1624 and tied alongside LCI 33 at Pier 5. During their time in Nemours, the LCI crew carried out routine ship duties and whenever possible they were granted liberty. In addition, the crew could swim or play softball if they desired.

While in Nemours, LCI sailor Charles Henderson Wolsey was discharged from the Navy but immediately re-enlisted for an additional 4 years.
From War Diaries: Upon arrival in North Africa, 1 Division of LCIs arrived in Nemours (LCI 35) and 2 Divisions (including the LCI 229*) went to Tenes and 1 Division was sent to Cherchell.
*The LCI 229 was the ship that my father Stanley Galik crossed the Atlantic Ocean
April 18 – April 28, 1943
Mostaganem, Algeria
At 0635 on Sunday April 18th LCI 35 got underway with 5 other ships for Mostaganem, Algeria arriving at 1840 and tied alongside LCI 15.

Most likely, this was about the same time that LCI 35 and the other 5 ships were reassigned from Flotilla One to Flotilla Two with LCI 35 being assigned to Group 4.

During the time they spent in Mostaganem the crew carried out general and routine duties. On April 22nd Ensign H.V. Dryer, as part of Flotilla Two staff came aboard the LCI 35 and performed radio maintenance. LCI 35 conducted at least a half dozen beaching exercises over the course of three days (April 23rd, 24th, and 26th). On April 27th LCI 35 anchored inside the breakwater at 1115 and conducted an alert with the crew going to battle stations at 1300.

Other Ship References in LCI 35 Deck Log
On April 20th LCI 35 pumped fuel to LCI 13 and transferred 1200 gallons of fuel to HMS Linnet. During the time spent in Mostaganem LCI 35 was tied alongside LCI 33.

| | |
| --- | --- |
| April 1943 | Other WW II Action and Notable Events |
| April 13, 1943 | President Franklin D. Roosevelt dedicated the Jefferson Memorial. |
| April 19, 1943 | Tens of thousands of Jews living in the Warsaw Ghetto began a valiant but futile battle against Nazi forces. |
April 28 – May 6, 1943
To Tenes, Algeria
At 0615 on April 28th LCI 35 got underway for Tenes, Algeria arriving and docking at 1545. For the next two days the crew performed general and routine duties. From May 1st until May 6th, LCI 35 practiced day and night beaching operations (with other LCIs), and towed a target for gunnery practice. After conducting the exercises the LCI 35 returned to Tenes and tied to LCI 33.

May 6 – May 8, 1943
Cherchell and Arzew, Algeria
At 0700 LCI 35 got underway for Cherchell with 7 other LCIs arriving and docking at 1420. A fourth of the ship's crew was granted liberty until 2130 and all crew were allowed to rest on Friday May 7th to wash clothes, shower and clean lockers.

Commander Sabin made the following comments about Cherchell in his War Notes:

...Cherchell itself is an interesting little place. Cleanest city I've seen in North Africa. It is also the second oldest--second to Carthage. Formerly called Cesar after Julius Caesar. The ruins of the amphitheater, the Queen's Bath and the aqueduct are still there. The populace is mainly French, although many Arabs are there...

May 8, 1943
LCI 35's Introduction to the Realities of War

Submarine Detected
On May 8th LCI 35 was introduced to the realities of war. At 0300 on May 8th, LCI 35 got underway for Tenes, Algeria but was ordered not to enter the harbor because a submarine was detected. In the hope of destroying the submarine, two depth charges were dropped from an AM boat at 1045. This was followed at 1100 by an additional 7 or 8 depth charges from another searching vessel.

Floating Bodies
Because of the threat posed by the submarine, LCI 35 did not enter the harbor and got underway with other LCIs heading northwest passing Mostaganem. At 1800 a LCI in the formation sighted a floating body. At 1810 two more bodies were sighted and picked up by two other ships in the formation (One of the bodies was later identified as Senegalese soldier (French). Finally at 2000 the LCI 35 tied up to LCI 33 in Arzew.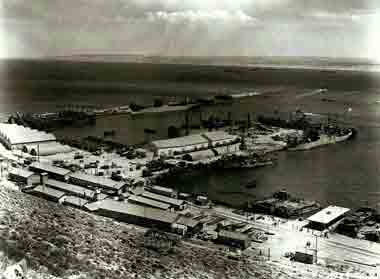 Arzew Harbor
Photo Courtesy of Robert W. Blackman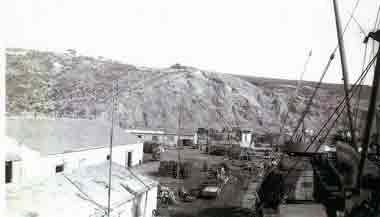 Arzew Harbor
Photo Courtesy of Robert W. Blackman