Pre-Enlistment (1941 - 1942)

After his stint in the Civilian Conservation Corps in New Mexico in 1940Dad returned home to Braddock, PA where he continued to hang out with his "Mob" friends and again worked at a local gasoline station (See picture on the right).

When he wasn't working Dad and his friends usually hung out at the local corner store, played "touch-tackle" football, played softball, drank Pepsi or just thoroughly enjoyed the camaraderie of being together.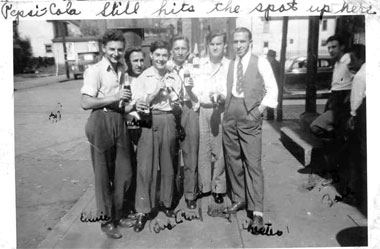 "Pepsi Still Hits the Spot Up Here" was taken outside the store. Pictured (L to R) are Eddie Havrilla, Edward Danko, Bob Pigman, Paul Pagorzelski*, Eddie "Nosy" Kraly, and Chester Borowski. This photo probably was taken around September 1942 while Dad was at Cooks and Bakers School in New Orleans, LA.

Above: The group that Dad called the "Mob". Pictured L to R in the front row are Regis Giba, Paul "Pogs" Pagorzelski*, and Billy Meetro. Standing L to R are Eddie Havrilla, Ed "Nosy" Kraly, Dad, George "Big Gofta" Tengreain and "Ficky".





Left: Eddie "Nosy" Kraly and George "Big Gofta" Tengreain and Stanley
* Bob Pigman, in conversations in June and July 2002 indicated that Elmer Giba and Paul Pagorzelski were killed in Europe during the war. Elmer was killed by a sniper in Southern France and Paul was killed in an automobile accident in Frankfurt, Germany while waiting to come home after the war in Europe ended.