January 4, 1945
Marriage to "Blondie"
After Dad returned to the States on December 7, 1944, he began 30 days of rehabilitation leave. During this leave Dad finally got to see his family again, but more importantly he got reacquainted with "Blondie", the girl he met at Kennywood Amusement Park in August of 1942. Dad and Blondie only saw each other a few times before Dad was sent overseas, but their relationship blossomed through their almost daily letters to each other during the war. Dad often expressed to his sister Mae that "Blondie" was the one for him.
Wedding Photo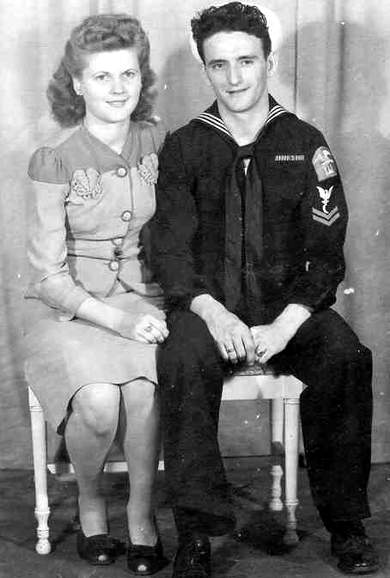 Mel and Stan
Weddding Photo January 4, 1945
Wedding Ceremony
After a little hurried planning, Stan, in his Navy uniform and Mel (Blondie) in her wedding dress, got married on January 4, 1945. In less than a week Dad had to report back to Norfolk, VA. There was no time for any honeymoon or big wedding celebration. Only several family members were present for the private wedding ceremony.

Tom Brokaw, when he spoke of marriages that occurred during the World War II era, probably summed up Dad and Mom's relationship when he said:

"Most of these relationships were forged when the world was a dangerous place and life was uncertain. Couples were forced to confront the profound emotions and passions that come with the reality of separation and the prospect of death."

Tom Brokaw - The Greatest Generation

On January 8th Dad, now a married man, returned to Norfolk, VA without his new bride.
January 1945

Other WW II Action and Notable Events

January 9, 1945
American forces began landing at Lingayen Gulf in the Philippines.
January 12, 1945
Soviet forces began a huge offensive against the Germans in Eastern Europe.
January 17, 1945

Soviet and Polish forces liberated Warsaw.

Swedish diplomat Raoul Wallenberg, credited with saving tens of thousands of Jews, disappeared in Hungary while in Soviet custody.

January 20, 1945
President Roosevelt was sworn into office for an unprecedented fourth term.
January 27, 1945
Soviet troops liberated the Nazi concentration camps Auschwitz and Birkenau in Poland.
January 28, 1945
Allied supplies began reaching China over the newly reopened Burma Road
January 31, 1945
Private Eddie Slovik became the only U.S. soldier since the Civil War to be executed for desertion as he was shot by an American firing squad in France.
**LCI (M) 974 Sunk by Japanese Suicide Boat in Lingayen Gulf, Luzon, Philippine Islands, 10 January 1945
**LCI (G) 365 Sunk by Japanese Suicide Boat in Lingayen Gulf, Luzon, Philippine Islands, 10 January 1945
**LCI (L) 600 Sunk by Undetermined Explosion at Ulithi, Caroline Islands, 12 January 1945