Civilian Conservation Corps (CCC) Established March 31, 1933
The Civilian Conservation Corps (CCC) was formed by Congress (S.B. 598 and Executive Order 6108) as one of the first acts under President Franklin Delano Roosevelt's New Deal. The CCC camps were an attempt by President Roosevelt to reverse the effects of the Great Depression where rampant unemployment and economic despair were common throughout the country. The CCC Camps were designed to help families financially while at the same time providing a means for young men to learn skills, trades, and get an education. Ultimately, over 3 million young men were enrolled in these camps since they were first established on March 31, 1933. It was this camp experience that helped shape the values and guided CCC enrollees throughout their lives.

Richard Melzer-Coming of Age in the Great Depression
Camp Roosevelt - First Civilian Conservation Corps Camp

Photos of the monument erected at the site and the marker with a description of Camp Roosevelt (NF-1) are on the right.

This first CCC camp, named after President Roosevelt, opened on April 17, 1933. Camp Roosevelt was located in the George Washington National Forest near Luray, Virginia. The layout of the camp is depicted in the brochure below. However, since no original structures remain at the Camp Roosevelt site, visitors can only see the foundations where buildings once stood.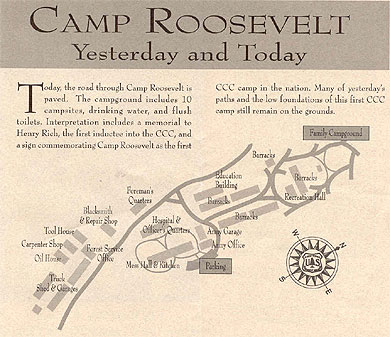 Typical Camp Layout and Administration

A typical camp layout was similar to the design of Camp Roosevelt. The camps were rather basic and built using pre-fabricated buildings that could be transported from one site to the next. The camp's layout usually included four (4) barracks, a latrine, bathhouse, mess hall, infirmary, recreation hall, supply building, garages, and administrative headquarters. These buildings had connecting walkways with a central yard that included the flagpole and flag. Each barracks was 20'x130' and housed 50 enrollees. "Side" or "Fly" camps were even more basic.

Although the Civilian Conservation Corps was to be a "civilian" organization, it was in many ways similar to the military. Enrollees* were required to fill out an application noting their name, age, level of education and previous employment. After determining that a prospective enrollee represented a family on the public relief rolls and were otherwise eligible, the enrollee took an "Oath of Enrollment" and signed up for a 6 months stint. Camps were administered by military personnel. The Camp Headquarters personnel consisted of a Camp Commander (usually a Captain), a Lieutenant (second in command), an Educational Advisor, a Chaplain, and a Doctor.

Enrollees earned $30 each month, but agreed to send $25 of this to a designated dependent at home. In Dad's case, the $25 was sent to his Mom.

*The term enrollee was used rather than enlistee in order to maintain its image as a more "civilian" organization and not be perceived as a "military" organization.

Work Values Learned While in Camp

CCC enrollees learned a number of valuable lessons during their stay in camps including the following:
The value of being punctual and the need to follow a schedule
Learning to respect authority and discipline
The need for safety - Knowing the "Always Be Careful" (ABC) safety motto
Taking satisfaction in seeing a job through to completion, and
The value of good leadership and working side-by-side with others
Benefits of CCC Camp Experience

For most CCC enrollees the camp experience was viewed as beneficial considering the conditions that they left behind at home. CCC enrollees for the most part ate better than they did before entering the camp and usually gained weight and developed muscles after being in camp. Many were in better health and learned job, mental, and life skills that would remain with them after their CCC experience was over.

Some Common Complaints About the CCC Camp Experience

Some of the more frequent general complaints regarding camp life involved their living in the pre-fabricated housing that was poorly insulated and heated for cold nights. Heat during the summer also made for uncomfortable sleeping conditions. The heat and cold were especially difficult for enrollees because they also had to contend with bed bugs that infested their quarters. Enrollees also found that they had to adjust to different eating habits or meals that were for the most part "the same stuff over and over again". Other pet peeves of enrollees focused on the limited availability of sports equipment, properly fitting clothes and shoes, and the turnover in camp personnel. On occasion there was friction between enrollees in a camp in their home state and those "foreign" enrollees that came to the camp from another state.

Richard Melzer - Coming of Age in the Great Depression
Civilian Conservation Corps Camps (CCC) were organized into 9 Corps areas and were located throughout the country. The Corps areas were further divided into Districts. Each CCC camp reported directly to the District Headquarters. Dad was in the Albuquerque District of the 8th Corps.

Additional information on the Civilian Conservation Camps (CCC) history, camp locations and other details will provide significant insight into how these camps were organized and operated.