United States Naval Training Station, Newport, RI
July - August 1942
Dad began training in early July and from the very beginning always thought highly of his service in the US Navy. Although Dad enjoyed his experience in the Civilian Conservation Corps (CCC) camp in New Mexico, he thought the Navy was a whole lot better. Dad's training while at the USNTS in Newport, RI was summed up in a letter to his sister Mae that described the drilling he received by stating that "they teach us everything, shooting, marching, rowing and even exercise every day." Dad, as an Apprentice Seamen, was in Co 523, Battalion #5 while at the USNTS and earned $50.00 per month.

Cooks and Bakers School - New Orleans, Louisiana
August - December 1942
After leaving Newport, RI, Dad spent a couple of hours in New York City before heading to New Orleans (Algiers), Louisiana and additional training. On seeing New York for the first time Dad said that "its as huge as you read about - crowded, busy and high buildings". During his short layover he only could see the Empire State Building from a distance but he did get to ride the subway which he said was "a thrill in itself". More amazing to Dad was the fact that "for a nickel you can ride all day and night". Also during these 2 hours Dad "visited bar rooms, restaurants, and chatted with Canadian sailors, R.A.F. Flyers and even a Norwegian".

Dad arrived at the US Naval Training Station in New Orleans, Louisiana on August 20th and originally assigned to Barrack 3 W pictured on the right. Dad eventually was assigned to Barracks 18E and began training at the Cooks and Bakers School where he noted that being a cook had some extra privileges like sleeping "in bunks for a change and [we] have very little discipline". On the top right is a picture of the entrance to the US Naval Receiving Station.

After arriving in Louisiana Dad wasted no time in writing to his sister. He wrote her on August 21st using USO stationary in the "midst of a very bad rainstorm" and asked her for two small favors. He needed to borrow some money until September 3rd and also wanted her to send the pictures of Lynda that he inadvertently left behind in his brother Jay's car while home on leave from basic training.

United States Naval Training Station - New Orleans, LA

Above and Right: Several photos taken at the USNTS in New Orleans, LA are shown here. The other photos are of the base and of a set up for some celebration-possibly a graduation ceremony from Cooks and Bakers School.


Left and Bottom: United States Naval Training Station Chapel and Statutes of the Holy Family near the Chapel.





Dad got to visit several places and see some sites while stationed in Louisiana. The round trip ticket via the Louisville and Nashville Railroad on September 5, 1942 was for a day trip to Bay St. Louis, Mississippi.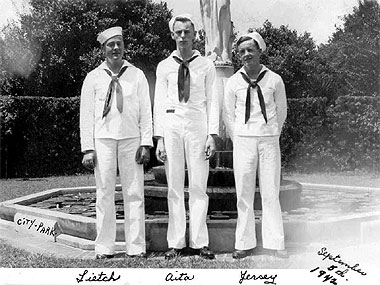 Leitch, Aita, and Lacey (Jersey) are pictured above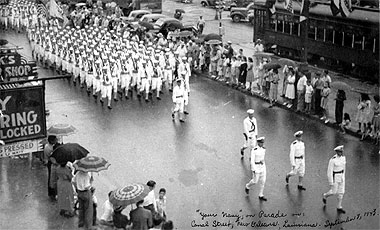 This photo titled "Your Navy on Parade on Canal Street" was given to Dad by J.T. Harryman on September 6, 1942. Dad wrote on the back saying that "Baker Harryman as swell as his pies and cakes". The photo was taken on the July 4, 1941.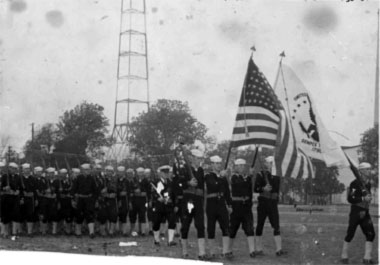 United States Coast Guard Parade September 5, 1942. J. T. Harryman identified as being in background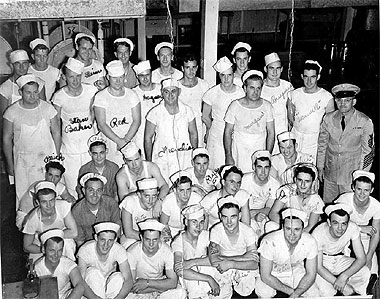 Sailors enrolled in Cooks and Bakers School at the time Dad was there. Dad is circled in the second row, second from the right in this group photo. Dad also identified the following in the photo above (Some are also included in the Photo Gallery): Slim, Baker, Red, Wagner, Briegman, Harwell, Vick, Paich, Frenchie, Dye, Gabby, Morgan, Culpep, Pete, Spam, Dusty, Rollie and another Frenchie