By mid-1942 patriotism was really taking hold in this country with young men either enlisting or being drafted into military service. Citizens mobilized efforts and made sacrifices in supporting the war and hundreds of magazines placed the Flag on the front cover of their July 1942 edition to rally citizen action in support of the war.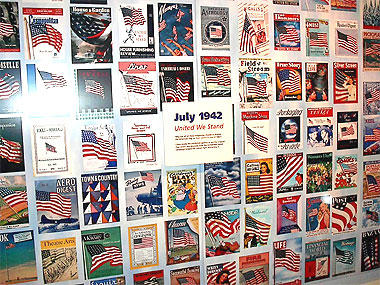 July 1942 United We Stand Exhibit
"Magazines nationwide featured the American Flag on their covers. Adopting the Slogan United We Stand, hundreds of publications waved the stars and stripes to promote national unity, rally support for the war, and celebrate Independence Day."

Details related to "The United We Stand Campaign" is available from the Smithsonian National Museum of American History website. The Campaign covers the following:
Introduction

The Campaign

Magazine Cover Gallery

After July 1942

Behind the Designs

The Flag in World War II
In addition to the United We Stand Campaign, posters were designed to support the war effort and to ensure victory. These posters Produce for Victory: Posters on the American Home Front (1941-1945) were to be the "ideal agent for making war aims the personal mission of every citizen."
The poster on the right "Help Bring Them Back to You!...Make Yours a Victory Home!" is an example of the posters aimed at increasing production at work and at home.
Whether or not the "United We Stand" patriotic campaign influenced his decision to join the Navy, Dad nonetheless enlisted on June 29, 1942 in Pittsburgh, PA.

These two photos of Dad (on the left in both photos) with Gibby, a friend who recently joined the US Armed Forces, were most likely taken in front of the local corner grocery store while Dad was on leave from the Newport, RI Training Station August 6 - 13, 1942.

It was while on leave from basic training that Dad met his future wife "Blondie" at the Kennywood Amusement Park in West Mifflin, PA..